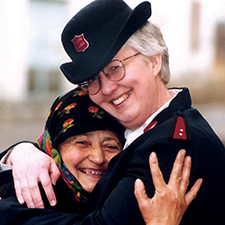 Hours of Operation: 9:00am-4:00pm, Monday-Friday
The mission of The Salvation Army Family Services is to fulfill the social, health, spiritual, and recreational needs of low-income individuals and families in the Kitsap County community. Through our social welfare program, we provide assistance and support to address a wide variety of personal and social difficulties by helping our clients access necessary resources. We strive to preserve the dignity and self-respect of the individuals and families seeking assistance, while encouraging them to become self-sufficient. Among the services we currently offer are th following:
Voucher Center: Provides clothing, small appliances, furniture and linens to those who are homeless/in-need and those who recently have moved into a home and require furnishings.
Emergency food boxes: Provides emergency food to people in need.
Shower & Laundry Facilities: Provides a place to shower and do laundry for free. Hygiene items are provided free as well. The goal is to prepare jobless/homeless as they seek employment.
Winter Shelter: With a Missoula County grant, aids people who have recently become homeless or are in danger of becoming homeless. Motel vouchers, rental deposits, and rent can be paid to clientele during Winter.
Emergency Shelter: With a grant, aids people who have recently become homeless by providing motel vouchers throughout the year.
Transportation: With a Missoula County grant, provides a bus ticket out of Missoula for people who have a place to stay and job prospects somewhere else. Vouchers for the local bus system and for gasoline are provided as well.
Prescription Assistance: We are able to help individuals with $25 towards their prescription cost.
For more information about specific programs and locations, contact The Salvation Army in Missoula at (406) 549-0710.